You may not realise it, but Millside Radio has been on the air for over thirty years!
We had a very gentle start, helped by a number of enthusiasts and by our sister station in Nottingham, NHR, …..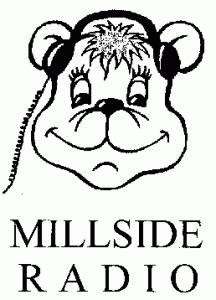 1989
Let's take you back to the 20th October of that year. Picture a cold, damp night, the wind is howling, the rain is pouring and a new hospital radio service is born. Millside, the hospital radio service for Mansfield and Ashfield came into fruition due mainly to the hard work by Mr Pete Haslam, who had been working on the project for many years. At the start, there were only four members, Mike Bargh, Pete Haslam, Mark Simpson and Bill Purdue.
Millside had no studio or premises of any kind, so how did we make the programmes for the new radio service? Well, this was thanks to Nottingham Hospital's Radio who at that time had the luxury of four studios at the Queen's Medical Centre, Nottingham. We were able to collect requests from people in the Dukeries Centre at King's Mill and then dash down to Nottingham to put the programme together. Back at King's Mill, Mark Simpson was busy connecting the wires from our cassette tape recorder (the only equipment we had at the time) to the hospital distribution system sited alongside the water tanks in the attic of the Dukeries Centre.
With all the work done, Millside Hospital Radio went on air at 6:00pm on Monday 20 October 1989 and our listeners were able to pick us up on channel one of their headsets.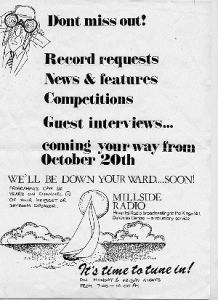 1990
In March of that year, the hospital was in a position to make available part of the old Occupational Health area to Millside. This meant that a permanent studio could be built enabling live programmes to be broadcast. This was brought online on Easter Monday with the first live programme on Millside, the 'Television Show' presented by Mike Bargh and Mark Simpson.
On 24th August 1990, the late Jeremy Beadle officially opened Millside. Jeremy spent the whole day with us, visiting many of the wards and joining us in a live interview. In the afternoon there was an official opening ceremony attended by members of the hospital trust, local dignitaries from Mansfield and Ashfield along with Millside members.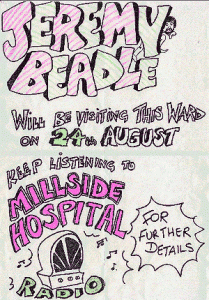 1991
An extra room was made available enabling a second studio to be built. This became the on-air studio and the existing studio was developed into a production/standby facility. Milly – the Millside logo – was 'born' in this year. A graphic designer produced eight different designs. Patients and staff around the hospitals were asked which design they preferred. The results were clear, and Milly the Bear has represented Millside Radio ever since!
1992
Broadcasting was extended to cover the Mansfield Community hospital one mile away. Programmes were made available on channel 1. In addition to normal programming, Millside provided an overnight service for Ashfield Community Radio, a restricted service license (RSL) which was focused on the annual Ashfield show that year. This was the first of a number of such co-operations with local organizations over the next few years.
1993
Twelve new wards were opened in the King's Mill centre, and broadcast programmes were made available on channel 15. Programmes were extended to cover Sundays.
1994
Millside celebrated its fifth birthday, and invitations to join the festivities were extended to people inside and outside the hospital. A live party programme was transmitted across the hospitals and the whole Mansfield and Ashfield area with help from Sherwood Community Radio RSL.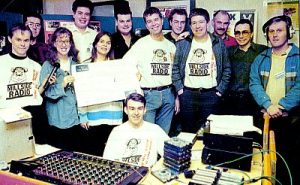 1995-96
Further developments and technical upgrades took place. Grants from the hospital Trust were obtained to enable new studio equipment to be commissioned. State-of-the-art digital recorders were brought into service for the first time. Frances Stein trying out the new equipment in studio two
1997-98
A grant from the Nottingham Building Society enabled us to purchase a new computer system to help with the running of the station. Grants from Fidler & Pepper solicitors and K.C. Mobility Services Limited meant that we could purchase fund-raising goods and a new jingle package.
1999
The whole studio complex was redecorated and secure CD cabinets were built and installed. The first web site was launched.
2000
A portable minidisk recorder was purchased to enable on-location interviews to take place. The recordings could be edited electronically, a far cry from the early days of cutting and splicing audio tape!
2001-2002
Millside took delivery of a piece of equipment called an EncoDad. This enables Millside to have twenty-four hour programming for the hospital wards 365 days a year!
2003
A new computer with touch-screen was bought, thanks for a grant bid. This was set up to run Millycart, an application produced in-house, enabling presenters to find and play a piece of music requested by a listener. Such a song can be found and ready to play within five seconds! Millycart is also used to play out jingles, trailers and other items.
2005
The web site was properly established and listeners were able to find out more about the station. The station ditched the EncoDad and developed an in-house playout system.
2006
At last! Millside was able to move out of it's original studios into a brand-new area comprising two studios and a large reception area. There was a lot involved in packing and moving all of our stuff and, if the truth be known, we still haven't unpacked completely!
2008
We began experimenting with making our programmes available via the web site. This proved very successful and from now on, with the support of the Hospital Trust, we intend to extend this facility. We also took delivery of a new American style jingle package recorded for us in Dallas, Texas.
2009
This year saw our twentieth birthday! We held a big party in the Street of the King's Mill hospital and friends old and new helped us celebrate
2012
This year has seen a brand new set of programmes. New members have joined and we have more live shows than ever. All of our computing facilities have been upgraded and have added to the reliability of our broadcast facilities.
After exhaustive testing, we now broadcast our programmes online in super high-quality sound for friends and supporters of the station. We also have a Twitter and Facebook presence.
In all, we are now on a par with professional broadcasters!
30 years of Voluntary Service
Many, many good people have been involved with Millside since the beginning. Here is a list of them. We hope we've got everyone here, but our sincere apologies if we haven't – just let us know who we've omitted and we'll add the name!
Steve Allen
Johanne Lewis
Russell Walters
Mark Bingham
Paul Maloney
Chris White
Benny Brown
Jane Maney
Andy Whittaker
Shaun Brown
Pete March
Liz Wills
Lee Burnette
Hon.Alan Meale MP
Glenn Wilson
Hilary Charlton
Chris Payne
John Yallop
Paul Charlton
Trevor Parsons
Byron Harvey
Jo Davis
Bill Purdue
Joe Anthony
Stan Bach
Jamie McGee
Melissa Ward
Jules O'Shea
Ben Brown
Cam Felton
Phil Dean
Kath Quinlin
 Tony Weaver
Barry Evans
Ed Rawson
 Steve and Lorraine Ward
Eric Faulkner
Karen Russell
 Roy Wetton
Alan Gaye
Joe Sentence
 Steve Jowle
Hiren Gonsai
Des Walker
 Vandana Sharma
Alex Varley
Hilda Swann
 Dean Greaves
Gemma Hardwicke
John B Tannen
 Melissa Ward
Jude Haslam
Terry Taylor
 Sarah Bailey
Clive Henderson
Phil Thickpenny
 
Terry Hurst
Tracey Thornaley
 
Trudy Kirk
Mel Vickers
 
Tom Lancaster
 
 
Honorary Members
Sadly no longer with us
 
Mike Bargh
Ron Gregory
 
Pete Haslam
Gill Harvey
 
Mark Simpson
Sheila Melborne
 
Jamie Christorforou         
Harry Sharpe
 
 
Wally Sims
 
Soloman Grundy
 
Dennis Williams
 
Ray Hackett